"Sundays in bed with" is hosted by Kate aka Midnight Book Girl who is currently hidden away inside a vacation home on a beach somewhere! Miss you, Kate!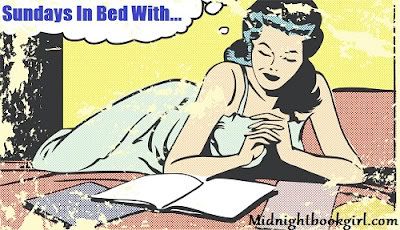 This Sunday I am home from church, back in my pajamas, and I have made a second pot of coffee and some eggs to have for lunch. I'm going to be having my "after church" coffee which means that I'm adding some Bailey's to it! Whoo Hoo!
And while I'll have the Olympics on in the back ground all day, I will also be making time to read...
The Land of Stories: The Wishing Spell By Chris Colfer
which does include a beautiful map inside
and Chris has already won my heart because not only does he dedicate the book to his Grandmother (I have a soft spot for grandparents) but then he includes a quote from none other then my favorite ...
C.S. Lewis!!!
"Some day you will be old enough to start reading fairy tales again."
Which is an excerpt from the dedication that Lewis wrote to his Goddaughter Lucy Barfield for The Lion, The Witch, and The Wardrobe.
I pre-ordered my copy of The Land of Stories from amazon, but my friend Kim from
On the Wings of Books
received her copy at the BEA conference and she graciously waited until the book was released world wide to read it so that we could read it together. Thanks Kim!
I hope you all enjoy your Sundays and feel free to share what books you will be spending your day with!