I need a little assistance and I am turning to the wonderful members of my book blogging community for help.
Sweet Valley Confidential came out today!
I really want to read this book because I do remember watching the tv show that was based off the books. And I thought I remembered reading the books too, but as I investigated further into it I realized that the only book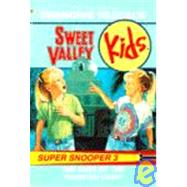 s I actually read were part of the "Super Snooper Editions". In fact the only one I have a vivid memory of reading was The Case of the Haunted Camp.
So I don't think I read any of the normal "life in high school" books. But, I really want to before reading Sweet Valley Confidential. Believe me, I have no hesitation when it comes toward t
aking a trip down nostalgia lane.
In fact just looking into the Sweet Valley twins makes me wonder what those Boxcar Children are up to!
But that is where I need help. From what I gathered on Wikipedia there were over 152 books published in the Sweet Valley collection, including spin-offs.
So, where does a girl start?
Granted, since I am currently not allowed to buy books, the ones I end up reading will be dependent upon which ones are offered at my local library. But still, I would love any and all suggestions.